To see Batman do
something heroic
is inspiring on an
almost archetypal
level. To see Robin
do something
heroic is inspiring
on a personal level.
-- Devin Grayson

Check out Tarts
and Teens!
This new monthly
column from the girls
of Sequential Tart
takes a look at being
a teen heroine in the
DCU.


Hey kids, comics!
Featuring free daily
comics such as
Abby's Menagerie,
Buzzboy, The Crater
Kid, and Puffy Cloud!


You've got mail?
Check your DCU:NG
mail, or sign up for a
free web-based e-mail
adress today!


Check your stocks!
Find stock info, get
the weather, read
movie reviews, check
airline prices, read
top news stories, get
driving directions...


Send an online
greeting card!
Choose from a wide
selection of FREE
online cards!


Contact Me
Voice mail:
1-888-Excite2
(1-888-392-4832)
Then enter mail box #:
291-311-2189
AOL IM: staylor104
Email: staylor104@aol.com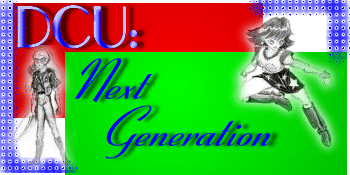 This site is best viewed at 800 x 600 resolution with the newest
version of either Netscape Navigator or Internet Explorer.
Welcome to DCU: Next Generation


If you are an older comics reader, you can probably remember the first time you saw Robin or the pre-Crisis Superboy and thought to yourself, "Gee, I'd love to be like that. I'd love to be able to hang out with Batman or fly like Superman."
Or maybe you're a newer or younger reader who first found the attraction when a certain impulsive speedster teen from the 30th century escaped to the 20th century with his grandmother? Or maybe it's another character who grabbed your interest. Possibly the spunky Arrowette, who is willing to tell off the JLA to their faces. Or perhaps a lesser-known character such as Anima or Rose Wilson.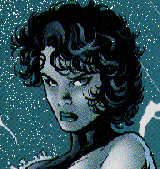 Regardless of the whos and the whoms, one thing is still sure: young heroes have found a way to captivate comic book readers all over again, particularly readers of the DC Comics universe.
So, whomever you are, welcome to DCU: Next Generation, the premiere website dedicated to following the exploits of those amazing young heroes of DC Comics!
Featured News
Hot off the press:
Featured Fan Fic
Girl's Night Out
Sonya Moon knew that her brother Joey would never hit her again. She closed her fingers around the jade talisman, feeling the grooves cut by a master craftsman. The fine, strong scales. The long, winding tale. The single, open eye fixed in an eternal, jeweled stare.

The relic looked just like the One-Eyed Dragon from the stories her grandmother told her in the darkness of the old lady's living room. She'd been careful to skip a generation, just as her own grandmother had. And the grandmothers in succession before that, long before the even her own grandmother could trace her lineage.

She knew her grandmother wouldn't approve. The stories were to keep the Moon women afraid of the talisman, not drawn to it. And her mother wouldn't understand. She always believed Joey's side of the story anyway.
Click here for more
Featured Art
Featured Link
Women in Refrigerators

http://
What Else Is New?
Check out all the new features at DCU: Next Generation: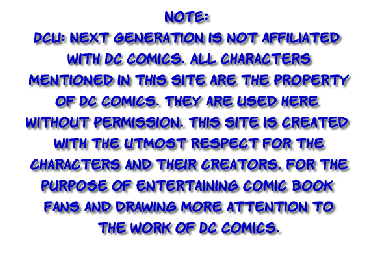 [ DCU: Next Generation was created and is maintained by Sean Taylor ]