Key Links
News and Information
Creativity
Features
Interactivity
Links and Awards
Visit my other sites, too!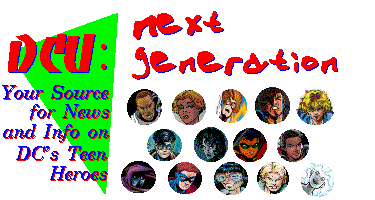 The Interview Partnership
If you maintain a website that hosts interviews with DC creators and want to have your interviews listed here, just let me know. Be sure to give me all the pertinent info as listed below and then I'll look them over and add them to the list. To search for a particular creator, use the alphabetical links immediately below.
Also, feel free to link this page to your site so you can offer the widest variety of DC creators interviews. (The url is http://members.tripod.com/~teensdc/int-part.htm)
A | B | C | D | E | F | G | H | I | J | K | L | M | N | O | P | Q | R | S | T | U | V | W | X | Y | Z
Creator

Date

Website

Topic

Augustyn, Brian
Young Justice: The Hangout
JLA, Young Justice
Augustyn, Brian
April 1998
DCU: Next Generation
and
Scott McCullar's Unofficial Green Arrow Conpendium
JLA: Year One, Flash, Impulse
Berganza, Eddie
The Unofficial Superboy Website
Young Justice, Superboy, DC plans
Byrne, John
January, 1999
DCU: Next Generation
Wonder Girl, Wonder Woman, Next Men, writing comics
No entries for C
David, Peter
August 1998
DCU: Next Generation
and
The Unofficial Superboy Website
Young Justice
David, Peter
January 1998
DCU: Next Generation
Aquaman and cast
Dezago, Todd
October 1998
Young Justice: The Hangout
Impulse, Young Justice
Dezago, Todd
April 1998
DCU: Next Generation
and
The Unofficial Superboy Website
Young Justice
Dixon, Chuck
February 1999
DCU: Next Generation
and
The Unofficial Spoiler Website
Robin, Spoiler, comics writing
No entries for E
No entries for F
Grayson, Devin
Scott McCullar's Unofficial Green Arrow Conpendium
Arsenal
Grayson, Devin
September 1998
Scott McCullar's Unofficial Green Arrow Conpendium
Arsenal, Titans
Grayson, Devin
September 1998
DCU: Next Generation
An essay about what's it's like to be asked what it's like to be a female comic book writer
Grayson, Devin
February 1998
DCU: Next Generation
Titans
No entries for H
No entries for I
Jimenez, Phil
October 1998
DCU: Next Generation
JLA/Titans, Renaissance art
Johns, Geoff
Young Justice: The Hangout
Star Spangled Kid
Johns, Geoff
(with Lee Moder)
July 1998
DCU: Next Generation
Star SpangledKid
Jurgens, Dan
July 1998
DCU: Next Generation
Teen Titans retrospective
Jurgens, Dan
March 1998
DCU: Next Generation
Teen Titans (Titans Hunt)
Jurgens, Dan
January 1998
DCU: Next Generation
Teen Titans
Kesel, Karl
February 1999
DCU: Next Generation
Superboy
Kesel, Karl
The Unofficial Superboy Website
Superboy
Erik Larsen
March 1999
DCU: Next Generation
Aquaman
Erik Larsen
JLA Headquarters
Aquaman
Larsen, Erik
February 1998
DCU: Next Generation
Aquaman
Luke, Eric
June 1998
DCU: Next Generation
Wonder Woman, Wonder Girl
Lyle, Tom
October 1998
DCU: Next Generation
and
The Unofficial Spoiler Website
Spoiler, Lynx, Robin, creating characters
Maggin, Elliot S!
Scott McCullar's Unofficial Green Arrow Conpendium
Kingdom Come, Green Arrow (circa 1970s)
Maggin, Elliot S!
JLA Headquarters
Kingdom Come Novel, Kingdom
Marz, Ron
December 1998
DCU: Next Generation
Superboy, Green Lantern
Marz, Ron
The Unofficial Superboy Website
Superboy, Green Lantern
McDaniel, Scott
January 1999
DCU: Next Generation
Nightwing
McDaniel, Scott
June 1998
Nightwing's Lair
Nightwing
McDaniel, Scott
June 1998
Nightwing's Lair
Nightwing
Messner-Loebs, William
June 1998
DCU: Next Generation
Impulse
Moder, Lee
(with Geoff Johns)
July 1998
DCU: Next Generation
Star Spangled Kid
Moy, Jeff
(with Tom Peyer)
March 1998
DCU: Next Generation
and
The Unofficial Superboy Website
Legion of Super Heroes, Superboy crossover
Nauck, Todd
Young Justice: The Hangout
Young Justice
Nauck, Todd
March 1998
DCU: Next Generation
and
The Unofficial Superboy Website
Young Justice
(pre-Peter David as writer)
O'Neil, Denny
Scott McCullar's Unofficial Green Arrow Conpendium
Green Arrow (1960-1998)
Ordway, Jerry
October 1998
Young Justice: The Hangout
Power of Shazam
Ordway, Jerry
March 1998
DCU: Next Generation
Power of Shazam, Thunder, LSH
Ordway, Jerry
January 1998
DCU: Next Generation
Power of Shazam, Thunder, LSH
Paquette, Yanick
June 1998
DCU: Next Generation
Wonder Woman, Wonder Girl
Peyer, Tom
September 1998
DCU: Next Generation
Legion of Super Heroes
Peyer, Tom
(with Jeff Moy)
March 1998
DCU: Next Generation
and
The Unofficial Superboy Website
Legion of Super Heroes, Superboy crossover
No entries for Q
Rousseau, Craig
DCU: Next Generation
Impulse
Smith, Kevin
April 1998
Scott McCullar's Unofficial Green Arrow Conpendium
Green Arrow
Smith, Kevin
March 1998
Scott McCullar's Unofficial Green Arrow Conpendium
Green Arrow
Smith, Kevin
Scott McCullar's Unofficial Green Arrow Conpendium
Repost from View Askew Message Boards
No entries for T
No entries for U
Van Sciver, Ethan
October 1998
Young Justice: The Hangout
Impulse
Various: The Fate of the Innocent Hero
December 1997
DCU: Next Generation
Are innocent heroes a thing of the past?
Mark Waid
JLA Headquarters
Kingdom
Waid, Mark
June 1998
DCU: Next Generation
Flash, Impulse, Chain Lightning
Wolfman, Marv
January 1998
DCU: Next Generation
New Titans, Current state of the medium
No entries for X
No entries for Y
No entries for Z